Press Watch > SHEROES BLOG
Outcome Statement: International Sheroes Forum 2016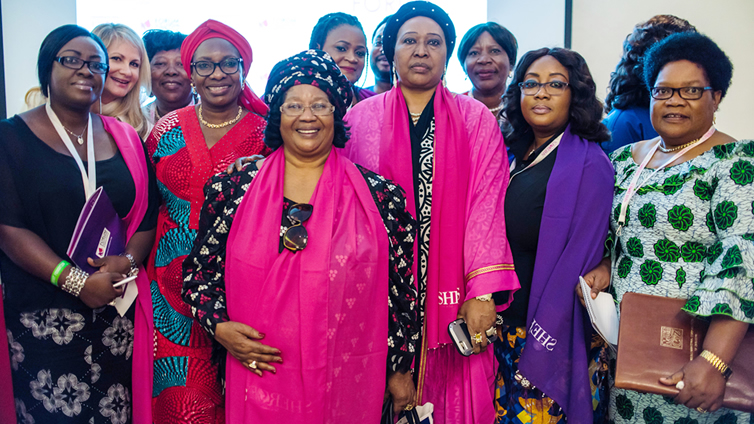 The International SHEROES Forum was organized in Dubai, the United Arab Emirates by Forum Solutions International and SHEROES Foundation in collaboration with the Joyce Banda Foundation, from 8-10, May 2016 under the theme; African Women's Leadership, Vision and Economic Empowerment. This theme was informed by the urgent need to ensure greater participation of African women in political and economic life of the continent. The principal aim of the forum was for the continuation of cross country engagement, discussion and dialogue on the need to "Elect Her In Africa" (EHIA), which was an initiative birthed in Ghana in October 2015 to challenge Africans to elect more women in power.
Over one hundred (100) individuals including several dignitaries from different African countries and the Middle East attended the Forum. Her Excellency Dr. Joyce Banda, Former President of the Republic of Malawi, featured as the Guest of Honor. Other High Level Personalities who attended and presented Keynote addresses include H.E. Bisi Adeleye-Fayemi, Co-Founder, African Women's Development Fund (AWDF), from Nigeria, H.E. Dr. Joice Mujuru, Former Vice President of Zimbabwe; H.E. Dame Pauline Tallen, Former Deputy Governor, Plateau State, Nigeria who also represented the First Lady of Nigeria, H.E. Mrs. Aisha Buhari; Honorable Thokozani Khupe, Fmr. Deputy Prime Minister, Zimbabwe; Speaker Lengtheng Helen Mekgwe, Chairperson of Gauteng Speakers Forum, South Africa; Mrs. Katrina Liswani, Deputy Executive Secretary for SWAPO Party – Namibia, Mrs. Ibim Semenitari, Ag. Managing Director, NDDC – Nigeria and Mrs. Sedina Tamakloe Attionu, CEO, MASLOC – Ghana.
The Forum equally drew participation from the Middle East as a platform for exchange of ideas and engagement with African Women. Some of the "locals" that attended are Ms. Fatema Aleghfeli, CFO, Dubai Media Inc.; Mr. Tariq Nizami, Founder and CEO of the CEO Clubs Network, UAE; Ms. Houda Naji, Founder/CEO Younoh Media, UAE. They expressed optimism in the way African women are engaging with each other to break gender economic and political barriers and pointed that the problem of gender inequality and discrimination is universal.
Emerging Issues
The dialogue recognized that Africa has made remarkable progress in strengthening democratic governance. However, despite the notable progress in consolidating democracy, women remain largely excluded in the mainstream political and economic life of many African countries. Leadership and political positions are still received and not demanded. While examining the challenges, prospects and opportunities, the Forum noted that effective women participation in both political and economic life of any countries requires greater collaboration and coordination of different efforts of women groups in Africa. It was noted that political arena has great potential and promise to provide a firm foundation for the effective participation of women at every level of the governance.
The Forum highlighted that efforts of prominent African legends who have paved the way for political and economic emancipation of African women must not be neglected. The Forum recognized the role played by such women as foundation for further demand based push for equality in political and economic life. Women's empowerment and political inclusion must be demand driven to bring about change
The Forum noted that" the SHEROES Forum" provides an important platform for women leaders and key stakeholders to address these challenges faced by women; exchange views on viable options; and explore practical approaches and experiences for gender equality reform.
The Forum facilitated a comparative exchange between various participants who shared lessons and ideas on how to collective strategize and demand for more space for women participation in economic and political of Africa.
Key strategies and Recommendations
The Forum agreed that two successful SHEROES Forum, following strategies must be employed:
African Women through SHEROES must engage African countries for a gender sensitive policy that will promote active participation of women in politics;
The establishment of channels of advocacy for a gender inclusive policy among women from different African Countries;
Launching of EHIA campaign across African countries in lead up to elections including during party primaries and nominations;
Encouraging women to support one another, particularly irrespective of political or party lines;
Reinvesting a country's resources into education;
Continuing the promotion of gender equality to combat the difference in literacy rates and to ensure economic empowerment of women;
Organizing leadership training for women to prepare them for positions of power;
Encourage the media to portray women in leadership in a more positive light;
Seeking sustainable and adequate financial assistance from International Organizations and NGOs to benefit grassroots women's groups in Africa.
The next International SHEROES Forum will be held in October 2016 in Accra-Ghana. Please visit www.sheroesforum.com for further information.
International SHEROES Forum was supported by: Ghana Freezones Board; Niger Delta Development Commission (NDDC) Nigeria; MicroFinance and Small Loans Center (MASLOC) Ghana; First Atlantic Bank – Ghana; Sidalco Ghana Ltd.; Armstrong & Associates – USA; and Emirates Airline.