INT. SHEROES FORUM - ACCRA 2017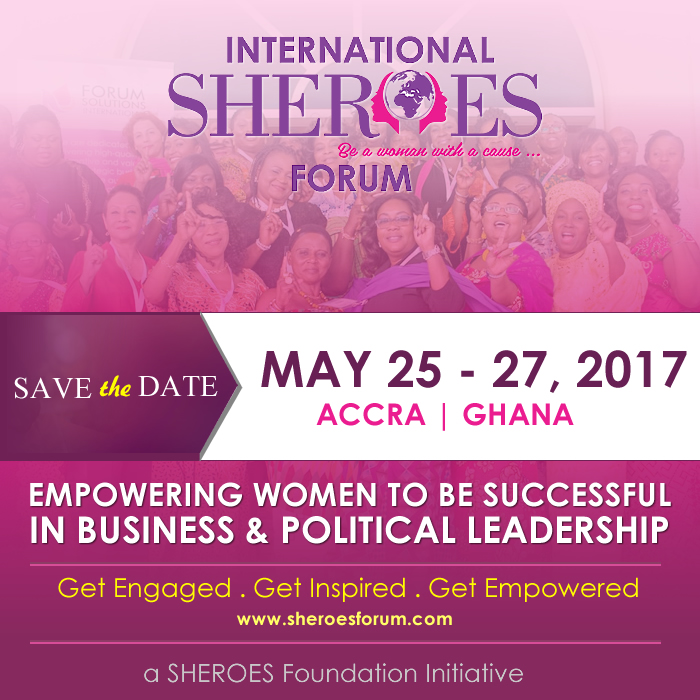 The SHEROES Foundation in partnership with the Joyce Banda Foundation will hold the 4th edition of its highly acclaimed International SHEROES Forum on May 25 - 27, 2017 at the plush Tang Palace Hotel, Accra - Ghana. The theme is: EMPOWERING WOMEN TO BE SUCCESSFUL IN BUSINESS AND POLITICAL LEADERSHIP. It will be three days of Keynote Speaker Sessions, Panel Sessions, Leadership Training Workshop and Networking Events.
The Forum will address ways in which the Business Community can play a pivotal role as champion of Womens' and Girls' economic empowerment. This year, we will explore how to overcome our fears and push ourselves by discussing initiatives to support women and girls; it will be a collaboration of veteran women and men with expertise in different fields to drive action.
For example, a UNESCO report released recently shows that more than 130 million girls around the World are still out of Secondary School, not including girls in refugee camps. Inequality between women and men also persists in global labor markets. Between 1995 and 2015, the global female labor force participation rate actually decreased, and the chances for women to participate in the workforce globally remain almost 27 percentage points lower than those for men. There are also significant gaps in women's access to finance and capital for entrepreneurship and women's representation in key leadership and decision-making roles.
Our Panelists will share insights on Political Mentorship and Networking, Entrepreneurship, Corporate Leadership inclusion, Education and Skills, Access to Technology, Health, the "She-Economy" and many more.
This will be a must attend event which will bring together over 250 Leaders from Politics, Business Community, Academia, Youth and Civil Society, as well as Key Decision Makers from the Public and Private Sector, Governments, Multilaterals and the UNDP-Ghana.
Why Attend?:
Come listen to Female trailblazers discussing how they are redefining pathways to power in Business and Politics.
Interact with High Profile Female Leaders who are shaping the Continent's future.
Contribute to the empowerment of Women on African and International scale.
Listen to professional analysis and prudence from some of African leading minds.
Who will Attend:
Government Officials
CEOs and Business Leaders
Members of the Diplomatic Corps
Politicians
Think-tanks, Research Institutes and Academic Institutions
Media Leaders
Gender Groups
Traditional Leaders