News > SHEROES BLOG
This year's International SHEROES Forum opens
Women Leaders participating in the eighth International SHEROES Forum (ISF), underscored the need for women to unite and speak one voice to ensure women empowerment, development and participation in governance.
The three-day Forum under the theme, "Setting New Paradigms for Women's Leadership in Africa", brought together women activists and leaders, including the First Lady of the Republic of Liberia, Mrs Clar M. Weah and Ghana's former First Lady, Nana Konadu Agyeman-Rawlings.
The former President of Republic Mauritius, Dr Ameenah Gurib-Fakim, said the SDGs were built on a strong foundation of science, technology, innovation and consistent call on gender equality.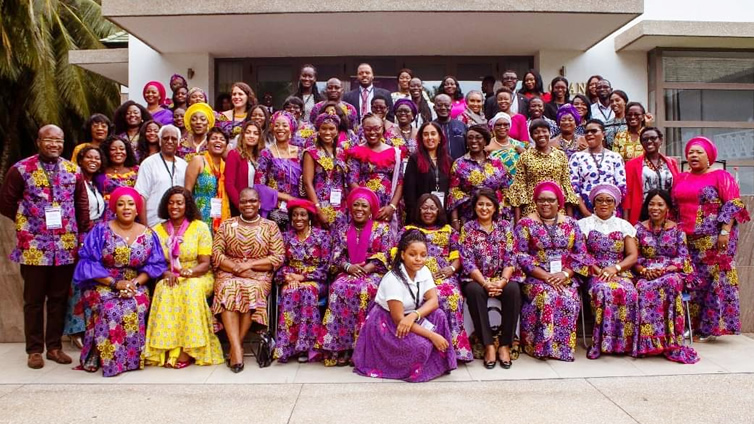 She said women economic empowerment lied at the heart of sustainable development and to realise that goal, fundamentally, depended on realising women economic rights.
That, she said, required transforming, empowering nations and structuring inequalities in households, markets and states, and various sectors of the economy such as agriculture, manufacturing and sciences to enable all women to make viable incomes, decent work and to be decisive actors to shape the terms and conditions of their participation in economic life.
De Gurib-Fakim also emphasised the need to model women empowerment with more commitment than before and urged women to break away from outdated leadership styles that did not promote their cause.
She said to ensure that women's participation was achieved, women needed to pull each other along and speak one voice, embody the freedom of women and share with others.
She said governments have a role to play in promoting women in the open market as well as empowering them in the areas of education, technology and economic, and encourage governments to unlock the talents in women to enhance national development.
She also urged women leaders to set goals for themselves and ensure that they delivered on them.
Dr Joice Mujuru, former Vice President of Zimbabwe, admitted that it was not easy working with men whose interest was to find faults with their female counterparts and criticise them.
She, therefore, encourage women not to be discouraged about those negative attitudes but remained focus on what they intended to achieve for their country.
Mrs Clar M. Weah, the First Lady of the Republic of Liberia, also underscores the need to shape women's stories, to effect change and transformation that would author the history of African women and the world positively.
She said feminism was not about the strength of women but it was about changing the world's perception about women's strength, adding that feminism provided an avenue for women to develop their talents for transformation.
Mrs Weah asserted that issues that affected women and girls could be tackled with one voice and support, and urged them to share their stories to evoke revolution of women's development across the region.
Nana Konadu Agyeman-Rawlings, Ghana's Former First Lady, said whether society liked it or not, women formed more than 50 per cent of the population and were seen as role models for their children.
She said: "if society does not see the need to push women agenda forward, then they are doing more disservice to the children, who turn to learn from their mothers".
Mrs Akosua Frema Osei-Opare, Chief of Staff at the Presidency, said the world was moving at a very fast race, and stressed the need for women to also run along with same speed to take advantage of what the global opportunity had to offer.
She, therefore, urged the women to join Ghana to celebrate the forthcoming "The Year of Return" festival, which she said was to give the opportunity to the diasporas to share their experiences and ideas with their brothers and sister back home.
Ms Flossy T. Menson, Founder of ISF, said the Forum aimed at promoting gender equality by supporting social and economic empowerment for women and girls in Africa.
"We want to build consensus around effective leadership and deliberate on the key issues of importance to women such as human rights, livelihoods, education, social and economic empowerment and health. We need to come together as women to effect changes in our lives and that of our children," she added.
The organisation focus on leadership support, education and political empowerment as a means to achieving the United Nations Sustainable Development Goal number five.
She said the Forum also engaged in entrepreneurial skills training, capacity building, start-up capital, and earning opportunities to make positive differences in women and girls.
There would be an award night to recognise women who distinguished themselves in all spheres of life.
Source: https://www.ghanaweb.com