SHEROES GLOBAL CONFERENCE 2022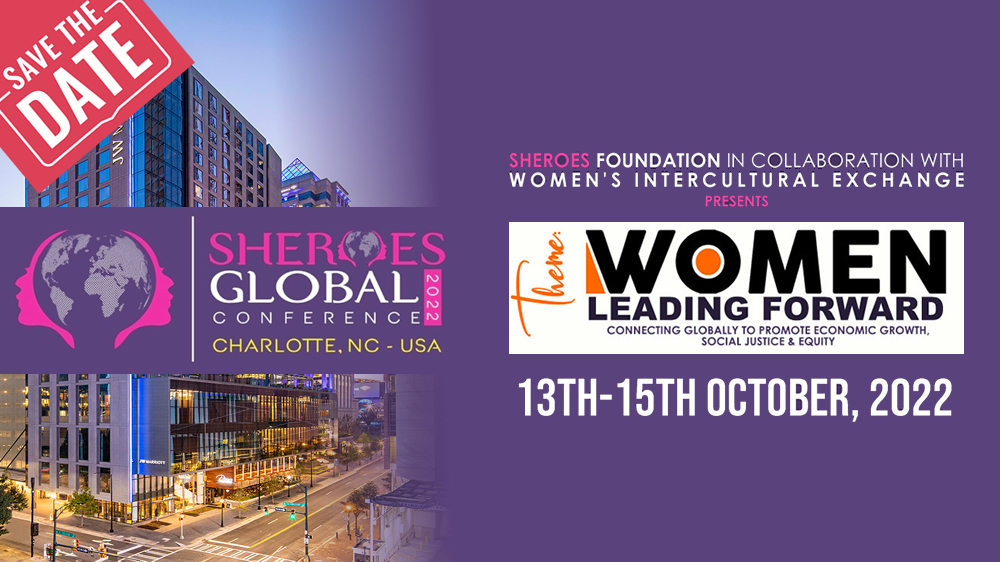 SHEROES Foundation, is excited to announce that we are heading to the US! The 2022 SHEROES Global Conference is slated to take place in Charlotte, North Carolina, USA from October 13 to 15, 2022, and we'd love to invite you all to join us.
The SHEROES Global Conference (SGC2022) will be a high-profile event in the US dedicated to women in leadership and focused on "Bridging the Gap" between Africans on the continent and the ones in the diaspora. We will also promote business opportunities in Africa, and drive gender equity. Our theme is WOMEN LEADING FORWARD: Connecting globally to promote women in leadership, economic growth and social justice. This year's conference will explore a new format to provide exciting opportunities for investors and greater representation from economic developers across nations to engage and interact - the SGC2022 will be a very productive event.
We will feature Women Presidents from nations in Africa, corporate leaders, government officials, academics, entrepreneurs and thought-leaders with deep expertise and also women who have built some of the world's most successful businesses and brands. You'll learn how you can develop a plan that will scale your business beyond your expectations.
You will get a chance to:
Network with women from over 30 countries who lead nations, head international companies, and more; set up one-on-one or group meetings and make your investment deals happen.
Learn from policy and industry experts in 20+ sessions providing you with actionable information on everything from marketing your business to human resources management.
Meet and form valuable partnerships with industry partners from across the United States and Africa.

The 2022 SHEROES Global Conference will continue its commitment to feature exciting opportunities with women's empowerment, innovation and entrepreneurship at the forefront.
Economic Growth African women entrepreneurs to connect with companies to prospect for advancement in the U.S. market or vice-versa, where participants from the US who are looking to enter the African market can exhibit at branded booths, and much more.
Social Justice means an array of important principles, like equality, peace, safety and freedom. Upholding social justice means valuing the rights of all individuals, and unfortunately, the world isn't quite there yet. Millions of girls and women around the world face injustices, like being denied an education, forced into an early marriage, or made victims of gender-based violence. These injustices prevent girls and women from reaching their full potential. In order to champion change and a create a more equal world for all, we must break down the barriers that many girls face every day.
Addressing Gender Equality – Finding solutions as per the SDGs
Health and Wellness – October is Breast Cancer Awareness Month, we will join the crusade and feature some survivors and medical personnel. The women in medicine session will help us with information on wellness

The SGC2022 will draw more than 300 attendees, mostly women of impact and excellence. Historically, the International SHEROES Forum has attracted some powerful African women of stature and worth and we are looking to increase their numbers and their influence. Over 20 international markets and economic developers will open up about business opportunities. Imagine the multi-million dollars insights, shortcuts and lessons you'll get from these entrepreneurs and thought-leaders.
Join us to be part of this successful history making event and take advantage of all the information, and opportunities the SGC2022 has in store.