News > SHEROES BLOG
SHEROES Forum Cites Low Representation in Women's Leadership
The International SHEROES Forum currently taking place in Monrovia has decried 'low representation' of women leadership in all sectors across Africa.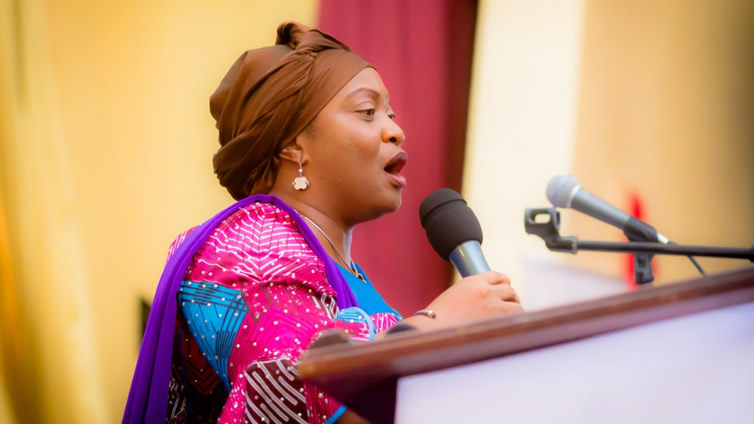 Hosted by Vice President Jewel Howard Taylor under the theme, "Advancing Women's Representation in Leadership," The SHEROES Forum runs from October 17-19, 2018, with several women and men from all sectors across Africa in attendance at the Monrovia City Hall Theater.

The forum opened with two former African female presidents, including Liberia's Ellen Johnson Sirleaf, Malawi's Joyce Hilda Banda; former Vice President of Zimbabwe, Joice Mujuru; and two current vice presidents from Nigeria and Liberia, the host country. Also in attendance were President and Mrs. George Manneh Weah.

The Forum attributed sexual and gender-based violence, high maternal mortality rates, and the lack of coordination, collaboration and cooperation amongst women as a leading cause of low representation in women leadership.

The Vice President reminded women at the forum to not shy away from the challenges they will face, but that they must be bold and fearless and join together tackle issues of dwindling representation.

She said the lack of resources and opportunities for women are major contributing factors that affect women participation in leadership, something she said need to be addressed in the shortest possible time.

"We must take cognizance of the fact that we live in a world wherein our hopes and aspirations are intertwined, and so the only way we can achieve our collective goals is to work together in unison. We must remove our eyes from the impossibilities and the things that so easily tear us apart and run the race knowing that we succeed or fail together," Taylor said.

VP Taylor said SHEROES women are happy for the opportunity to meet again in one place but, on the other hand, they are saddened and burdened by the very low representation of women in Africa.

"As we converge here this historic day, our hearts have a bittersweet flavor through our Lone Star Nation has been the first in many areas, such as sending the first female President to the United Nations General Assembly, in the person of the late Mrs. Angie Brooks Randolph; the first African Nation to democratically elect the first female President in Africa, Madam Ellen Johnson Sirleaf; and the First Nation to elect the World's best Footballer as President, a record not yet broken, we must state that on the eve of this historic FORUM, the number of Female Representation across our Continent is low for many reasons including lack of resources, Sexual and Gender-Based Violence," she said.

Taylor said, "to our three Mothers – Mama Joice, Mama Joyce, and Mama Ellen, we are excited beyond measure to be able to have the three of you under one roof; you are our inspiration and we pray that God will grant each of you long life as you continue to trail-blaze and show us the steps necessary for success."

Former president of Malawi, Joyce Hilda Banda, said it is important to promote the rights women and girls and improve women representation across Africa. She said SHEROES will achieve gender equality the African way by respecting men and working in line with them.

"We cannot achieve women participation in leadership by fighting with men but we will engage them and work together. Men and women need to work together to succeed in gender equality, she said.

Banda urged women leaders to invest in a girl child to prepare them to take leadership in the next generation.

She said women were leaders before colonization, adding that it is colonization that caused a setback for them.

Banda said when women are given the chance to lead, they do it differently, clean the mess and the right things are done for the people they lead because they are born leaders and mothers.

She said VP Taylor is one of the four women vice presidents in Africa indicating that giving chance to women is not a favor but an equal level of justice.

One of the delegates at the forum, Madam Sitta Fofana-saah, coordinator of the National Council of Chiefs and Elders of Liberia, said she was impressed about the inspirational speeches delivered by great women who have been able to excel to top leadership positions. She believes it would be more important for the organizers of the SHEROES Forum to reach out for the 'most needy women' in the rural area and community to help them understand the importance of women being in leadership.

She asked them to work with local women groups built the capacities of those uneducated women because they are also needed in leadership.

"What I know in capacity building, those whose capacities are built, you cannot repeat building their capacity because it will be a waste," she said.

Ma Kebbeh Mongar, president of Liberia National Rural Women and another delegate at the forum, said the issue of Sexual and Gender Based Violence is a serious issue that has to be discussed from homes, schools, offices before reaching the national level. She said girls are abused by people they know and interact will either at their homes, schools or work places and put the country and parents in difficult positions when it comes to carrying out the needed justice.

President George Weah said Liberia is inspirational when it comes to women representation in leadership. He said his government has produced the first female vice president of Liberia and appointed women to key positions.

Weah promised to introduce a bill that will keep the criminal court operating all year-round to enable those women and girls that are abused get timely justice. "When women do better, the economy does better," he said.

Flossy Tachie-Menson, Co-Founder of SHEROES Foundation, said she and her sister started the dream to help bring women together and share ideas on things that are stopping them from being in top leadership positions in various arenas.

Tachie-Menson said the aim of the forum is to help women see themselves as leaders and active in a positive direction to make their dreams come alive.

She said Liberia as a nation has done well in promoting women's representation in leadership but it is important for them to share the ideas with other African women to bring them in the driver's seat.

Tachie-Menson said the foundation will focus on building the capacity of women and include men to help women get on the path.
Source: https://www.liberianobserver.com