News > NEWS
Women must begin to unite - 'Sheroes Forum' panelists
The Special Adviser to the Governor of Oyo State in Nigeria, Rose Ayodele has said women occupying public offices did not get there on silver platter.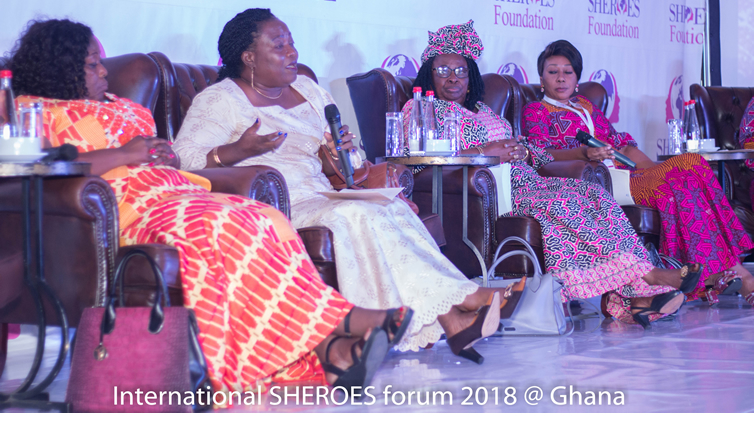 According to her, women are known for their hard work and dedication towards achieving their goals.
Contributing to a panel discussion at the International Sheroes Forum in Accra, she said, "You cannot sit down in this generation, in this continent, in any country in this continent and expect as a woman to be handed unto you a platter of gold in comfortable office while you sit down beautifully with your legs crossed it aren't going to happen."
She, also urged women to stand tall and begin to work together in unity saying, "Women it is time to get up and work enough of the talk, let us walk the walk we have everything it takes…I thank God for women, it is time for us to arise, it is time for us to begin to move, to begin to strategize, to begin to collaborate, to begin to be in unity, to begin to network this is our time."
Professor Naana Jane Opoku-Agyeman, the Former Minister of Education under the Mahama administration also advised against child-marriages.
She noted that children, particularly the girl-child must be allowed to stay in school and be trained as their future greatly depends on education and not on marriage.
"Marriage is not a child's business, those children must be in school they should be trained and they should be in positions where they are able to take charge of their lives," Prof Opoku-Agyeman noted.
Another member of the panel at the International Sheroes Forum held at the Labadi Beach Hotel, Board Chair for the Ghana Gas Limited, Christine Churcher also cautioned women who go about demanding funds for various projects to desist from granting sex in return for favours.
She said, "When you're sending women to go and look for money especially young women, let them know that it shouldn't be at the expense of any other thing.''
Speaking on the theme, "Women's Leadership: Honouring the Past, Treasuring the Present and Shaping the Future", the former First Lady of Nigeria, Professor Uche Azikiwe indicated that "As agent of change in Africa, women have to stand together to be heard and join forces to implement major goals, let us network with each other, share ideas and continue moving forward.
"I will encourage each and every one of us to go back home think of what you can do to help not just widows, women, young girls those that cannot make it."
She also advised political parties in Africa to exhibit internal democracy as ''the problem we have in most parties is that they don't have internal democracy… because of not having internal democracy those who think that they own the party try to impose their own person.''
The International Sheroes Forum brought together many dignitaries from across Africa, including former Second Lady of Ghana, Matilda Amissah-Arthur, Deputy Minister for Gender, Children and Social Protection, Okyenhene Osagyefo Amoatia Ofori-Panin.
Source: https://www.ghanaweb.com