News > NEWS
First Lady calls for strong alliances
The First Lady, Mrs Rebecca Akufo-Addo, has urged women groups and other feminist movements to form strong alliances with the government, civil society groups and the private sector to address challenges that hinder gender equality.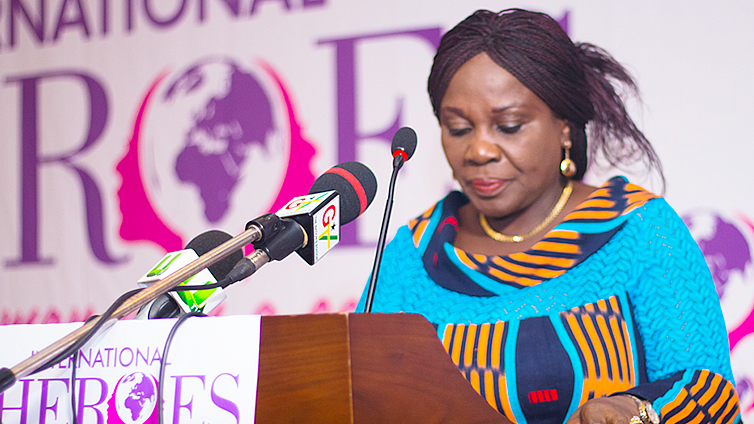 She also asked women in general to position themselves to make decisions that would impact on the lives of the younger generation.
In a speech read on her behalf by the Minister of Aviation, Mrs Cecilia Dapaah, at the opening ceremony of the fourth International SHEROES forum in Accra yesterday, Mrs Akufo-Addo said it was only when citizens and women groups worked in unison with the state that commitments made on women's rights could be comprehensively achieved.

The conference, which was on the theme "Empowering women to be successful in business and political leadership," had participants from over 10 countries, most of whom had excelled in various business fields.
SHEROES is a group of renowned and successful women from some African countries who have formed an association to help mentor young women.
Women's right
Mrs Akufo-Addo said although Africa had made significant progress in the advancement of women's right since the 1995 Beijing Platform for Action, "we still have a long way to go to attain gender equality."
"It is important that we guard against sliding back on progress already made. Furthermore, as we raise awareness of issues of gender inequality, let us also proffer solutions that are attainable," she said.
The Beijing Platform for Action envisioned gender equality in all dimensions of life.
In order to be truly successful in the quest for equality, Mrs Akufo-Addo said "our activities need to be matched by a responsive and effective government".
"I urge strong, well-resourced and persistent feminist movements such as SHEROES Foundation to hold their countries accountable to the implementation of ratified agreements," she said.
Women empowerment
Delivering the keynote address, a former Vice President of Zimbabwe, Mrs Joice Mujuru, stressed the need for women groups to take the lead role in empowering the younger generation of women.
She said although the road to the top was more difficult for women, empowering them to take up the mantle and begin to take action would eventually yield fruits.
"Having spent seven years in the bush and 34 years in government, and almost two years in opposition politics, I need to assure fellow women that nothing is impossible. There is no territory that is a preserve of men," Mrs Mujuru said.
Using her life as example, she said despite all the difficult mountains she encountered on her journey to the top, she did not allow the fear and threat of having to deal with powerful men stop her dreams.
Mrs Mujuru, therefore, called on women, especially those occupying top positions, to extend a hand of support to other women for them to attain greatness.
For her part, the Founder of SHEROES Foundation, Ms Flossy Tachie-Menson, said the rationale behind the conference was for women to discuss how best they could help one another climb the ladder of greatness.